The President announced the new venture in a series of tweets summarising his meeting with Vladimir Putin at the G20 summit on Friday.
I strongly pressed President Putin twice about Russian meddling in our election. He vehemently denied it. I've already given my opinion…..

— Donald J. Trump (@realDonaldTrump) July 9, 2017
Putin & I discussed forming an impenetrable Cyber Security unit so that election hacking, & many other negative things, will be guarded..

— Donald J. Trump (@realDonaldTrump) July 9, 2017
But the idea was instantly ridiculed in the conclusions of American intelligence agencies that Russian hackers and propagandists tried to sway the 2016 election in Trump's favour.
Republicans piled in on the President. Lindsey Graham of South Carolina, told NBC's Meet the Press programme: "It's not the dumbest idea I have ever heard but it's pretty close."
Partnering with Putin on a "Cyber Security Unit" is akin to partnering with Assad on a "Chemical Weapons Unit". 2/3

— Marco Rubio (@marcorubio) July 9, 2017
John McCain, who chairs the Senate armed services committee, told the Face the Nation program: "There has been no penalty. 
"Vladimir Putin … got away with literally trying to change the outcome … of our election."
Plenty of other commentators chipped in too. Former Defence Secretary, Ash Carter, equated the move to "like the guy who robbed your house proposing a working group on burglary".
I mean, generally, people feel more secure if the people accused of the thing, aren't responsible for tidying up the thing.

— Matt Haig (@matthaig1) July 9, 2017
It's like the Joker saying 'the Riddler and I are going to be keeping Gotham safe now. It's okay. Batman is fake news.'

— Matt Haig (@matthaig1) July 9, 2017
Too bad Bin Laden is dead. trump could partner with him to fight terrorism.

— Joy Sharp (@JoySharp58) July 9, 2017
Trump also faced accusations of undermining his own intelligence agencies with the announcement.
No art to this deal: What kind of "tough negotiator" goes into talks undermining his country's own position, as you did attacking US intel? https://t.co/sHTa9mmy2J

— Adam Schiff (@RepAdamSchiff) July 9, 2017
Around 13 hours later Trump felt the need to clarify his tweet, essentially telling the world not to believe things he says.
The fact that President Putin and I discussed a Cyber Security unit doesn't mean I think it can happen. It can't-but a ceasefire can,& did!

— Donald J. Trump (@realDonaldTrump) July 10, 2017
Trump said that "it is time to move forward in working constructively with Russia" after his lengthy meeting with Putin.
But he is still avoiding the question of whether he accepts Putin's denial that Russia was responsible for meddling in the 2016 election.
He said he "strongly pressed" Putin twice over Russian meddling during their meeting Friday.
— Garry Kasparov (@Kasparov63) July 9, 2017
Speaking in Poland just prior to the G20 summit, Trump was asked if he would definitively say that Russia interfered with the 2016 election.
In reply he gave a muddled answer, saying: "Well I think it was Russia and it could have been other people, other countries, it could have been a lot of people [who] interfered.
Putin must be rolling on the floor with laughter. Russia orchestrated a massive hacking that impacted the outcome of an election…

— Anirvan Ghosh (@anirvanghosh) July 9, 2017
"I said it very simply, it could very well have been Russia but I think it could have been other countries and I won't be specific.  
"I think a lot of people interfere, I think it's been happening for a long time, it's been happening for many, many years."
The US's electoral history is far from scandal-free, the infamous "hanging chad" episode that blighted the 2000 contest between George Bush and Al Gore being one of the more memorable.
Asking Russia for advice on cyber security makes about as much sense as asking the Koch brothers for advice on global warming. Oh, wait..

— Morten Øverbye (@morten) July 9, 2017
But interference by a foreign power at the level at which the Russians are alleged to have conducted their operation is unprecedented in US history, making Trump's dismissive attitude somewhat worrying.
Russian Foreign Minister Sergey Lavrov first told reporters in Germany on Friday that Trump had accepted Putin's assurances that Russia hadn't meddled – an assertion Putin repeated Saturday after the Group of 20 summit.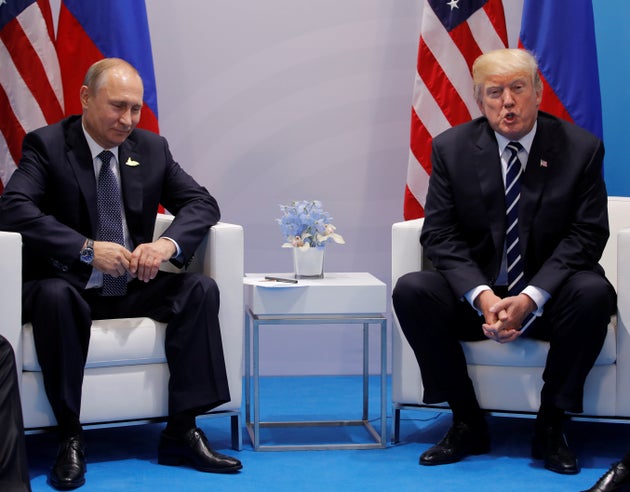 "He asked questions, I replied. It seemed to me that he was satisfied with the answers," Putin said.
White House chief of staff Reince Priebus took issue with Putin's characterisation.
"The president absolutely didn't believe the denial of President Putin," Priebus said. He said Trump had spent a "large part of the meeting on the subject," but wanted to move onto other subjects.
Source
http://www.huffingtonpost.co.uk/2017/07/10/donald-trump-news_n_17449346.html