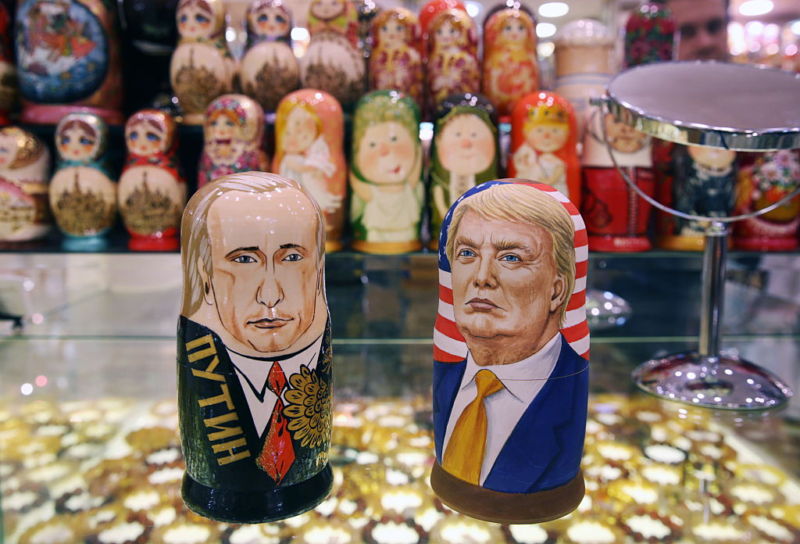 President Donald Trump proposed creating a so-called "cyber security unit" with Russia, then he decided against it after the idea was shot down by pretty much anybody who got word of it, including congressional members of his own GOP party. Trump, after meeting with Russian President Vladimir Putin on Friday, said Sunday that they discussed building "an impenetrable Cyber Security unit" to address issues such as election meddling.
"It's not the dumbest idea I have ever heard, but it's pretty close," Senator Lindsey Graham, a Republican of South Carolina, said of the plan. Senate Republican Marco Rubio of Florida tweeted that "partnering with Putin on a 'Cyber Security Unit' is akin to partnering with [Syrian President Bashar] Assad on a 'Chemical Weapons Unit."'
Treasury Secretary Steven Mnuchin said that Trump and the Russian president decided at a meeting during a Group of 20 nations summit in Hamburg, Germany, to embark on a joint "cyber unit to make sure that there was absolutely no interference whatsoever, that they would work on cyber security together."
But on Sunday, after it was clear that the plan was going nowhere, Trump took to Twitter and said no deal.
"The fact that President Putin and I discussed a Cyber Security unit doesn't mean I think it can happen. It can't… ," Trump said.
That didn't stop Rep. Don Beyer, a Democrat from Virginia, from introducing on Monday an amendment to the 2017 National Defense Authorization Act that would bar a US-Russian cyber accord. He said:
Donald Trump's proposal to form a 'cyber security unit' with Putin is a terrible idea that would immediately jeopardize American cybersecurity… Trump must acknowledge that Russia interfered in the 2016 election and take strong, meaningful action to prevent it from happening again in future elections.
The "cyber security unit" developments come as the Trump administration weathers investigations into possible ties of his campaign to Russia and of allegations of Russian interference in the November US election. Former FBI Director Robert Mueller is investigating this, as are House and Senate committees.
On Sunday, President Trump also announced that he had "strongly pressed President Putin twice about Russian meddling in our election. [Putin] vehemently denied it." Trump, too, has denied any campaign collusion with Russia.
Source
https://arstechnica.com/tech-policy/2017/07/wait-what-trump-proposed-a-joint-cyber-security-unit-with-russia/